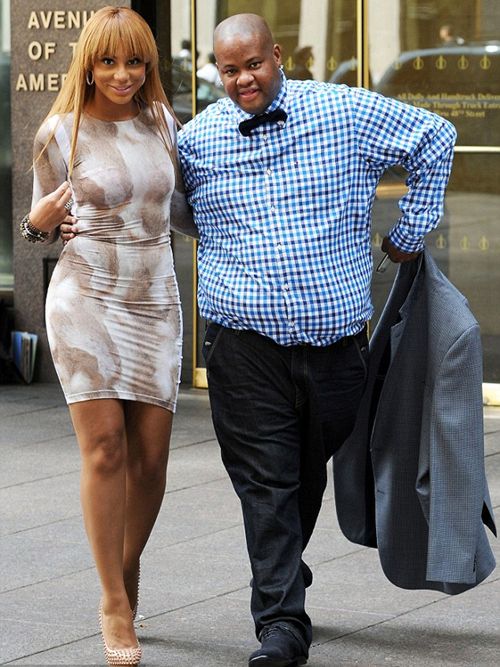 Why are Tamar and Vince selling their home that is less than a year old? Could there be trouble in the marriage? What's going on? Have you seen their new show? It makes me uncomfortable. Love has been on my mind lately, but Tamar and Vincent Herbert have had my attention a lot more than love.
This is because of their fairly new show "Tamar And Vince," which comes on WeTV every Thursday night. Granted, we all experienced this married couple for the first time on "Braxton Family Values." They seemed to have the solid marriage while most of the other family members struggled with ideas of loving good men. Actually it wasn't really about their marriage. Vince was on the show simply because he was Toni Braxton's manager. At some point Toni found a way out of her contract and Tamar stepped into the spotlight. From then it was destined that she would have a spin-off show. Who knew Vince would accompany Tamar on the spin-off though? Wait, who knew that the spin-off would show a marriage that looked like it was heading for divorce? As I already stated this show makes me feel very uncomfortable.
When WeTV was promoting the show they made it seem as if we would see a happily married rich couple doing what rich people do to add excitement and more money to their lives. Of course we would see the diva, Tamar, working on her music career, but still we expected lots of warmth, love, and advice for the married life. Or was that just me?
I expected to see a happy couple going through issues, but overcoming them at the same time. None of that has happened though. Tamar hasn't released any music. Vince has found a reason to be mad at her, or cause her to start yelling at him, in every single episode. In the last episode Vince didn't even seem invested in the marriage anymore.
He was in the hospital for months, but was holding a grudge because Tamar left the hospital for a couple hours one day after he came out of his coma. Then Vince became mad when he heard Tamar call him jealous over drinking, but he wouldn't listen to her point. When Tamar was shedding more tears than a newborn baby Vince totally shut her out and pretended nothing had happened. Even in counseling when she tried to apologize for her actions, he never accepted the apology. The shit was uncomfortable to watch.
The tension on that show is deep, but what's even worse is it makes you jump to conclusions. Is this just television? Have they taken out the happy moments between Tamar and Vince to hit ratings or is their marriage really falling apart? It was recently announced that the two are selling their house, which they moved into last December, for $7.5 million. Why are they selling a house they've barely lived in?
Are you watching this show? Do you see their marriage recovering from all the arguing? After all, the selling of the house is for real and not reality television.